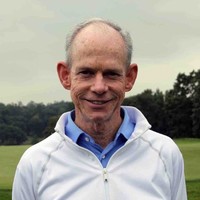 I write this note to recommend Gavin Ryan to you, as both a highly qualified coach and gentleman of integrity. I have been very fortunate during my 46-year PGA career to have worked both, at many top private clubs and with many talented professionals.
Gavin Ryan took his passion for the game and continued to grow his knowledge of how to best improve in all the many disciplines required for a golfer, to both improve while also enjoying the process.
Golf is a challenging pursuit – but if you do not have the required knowledge and tools it becomes an exercise in futility – I strongly believe Gavin's knowledge and desire to help others will allow those fortunate to work with him a much better chance of achieving their goal.
Best wishes for a successful and enjoyable journey!
National PGA Awards
2017 Bill Strausbaugh Award
2012 Patriot Award
2010 Horton Smith Award
JK Golf Consulting
I have known Gavin for over 15 years having worked under him as a PGA Assistant. His knowledge and passion for golf are unquestionable as he is always looking to improve his knowledge and skills by spending time working with the best. Working with him will undoubtedly have a positive effect on your game.
Gavin totally changed the way I think about my golf game. He can really help you!
Gavin will get you moving better and playing more consistently by understanding how your body moves for golf and showing you just what you are capable of achieving, you will feel good and gain yards….. I have known Gavin for over 10 years he really cares about his clients and he is easy to work with and gets results!
My sessions with Gavin have resulted in measurable improvements in my swing. This has helped me move to a single digit handicap.
Thanks for all the great tips.
Gavin's coaching style is easy to understand. He is a great person to work with and I have no doubt he will improve your game like he has mine.
You only have to look at the constant stream of winners on the various tours to understand how fitness is a vital component of what they do to prepare to compete at the highest possible level.
If you are not working with Gavin to understand how your body and the way it moves impacts your golf swing then you are not unlocking your true potential to become a better golfer.
I only wish that I had access to Gavin and his knowledge many years ago, however, I'm grateful now that with his coaching I will be playing my best golf for many years to come.
Thank you
I consider Gavin a professional of the highest quality, integrity and a asset to the golf and fitness industry. I would highly recommend anyone take advantage of Gavin's skills!
Gavin is an amazing coach who opened my eyes to movement training as a key to improving my golf swing. Together with swing training at KGS, I now hit the ball much more consistently. I would recommend working on movement training even before learning the golf swing or to do both at the same time like I did. Thanks to Gavin, I played a low 80's round recently which is 10-15 shots lower than before.
I am a beginner starting to play golf now that I am semi-retired. Gavin has made the learning process easy. He has shown me how my body movements impact my golf swing by putting me through a golf specific screening. The bespoke exercises and action plan he took me through have made a huge difference in distance and consistency and ultimately my confidence and enjoyment of the game.
I have known Gavin Ryan for 25+ years.
We have traveled our golf journeys together both when we physically worked side by side and have stayed in contact for many years across the pond.
Gavin and I have always shared several commonalities. We both love and respect the game with all out hearts. We both want nothing but the absolute greatest success for our students. It has never mattered to either of us the gender, skill level or age of our students, only they find a complete path to the promise land.
Gavin Ryan is a person that can, in fact, take you to the promised land of golf.
Enjoy the journey you'll be in great hands with Gavin!!
Sincerely in Golf
GolfTips Magazine Contributing Editor
GolfTips Magazine Top 30 Instructor
Met PGA TEACHER OF THE YEAR
SOUTH FL PGA TEACHER OF THE YEAR
2X SW FL. PGA TEACHER OF THE YEAR
GOLF MAGAZINE TOP 100 TEACHER IN AMERICA 2000-13?
2X GOLF DIGEST TOP TEACHER NY STATE
PGA QUARTER CENTURY MEMBER
81? NCAA ll NATIONAL CHAMPION
When I started working with Gavin I wasn't sure what measurable outcomes I could realistically expect. As I learnt more I began to see how understanding my body movement drives my understanding of my golf swing. Does working with Gavin make a difference? Well, in the 10 years from 2011 I had managed to get my name on the board twice but after working with Gavin, in the first half of 2022 I entered 3 board events and won 2 of them; back-to-back wins. So yes, I firmly believe working with Gavin makes a difference.
Gavin is a very talented coach, who I have known for a number of years. His insight and expertise in his field mean he always comes up with a tailored plan to improve areas of my game.
I have known Gavin for over 15 years. Gavin understands both the physical and technical demands golf places on the golfer. He is very easy to understand and without doubt, he will improve your game.